Friends, this is a bit complicated. But very, very, very cool. Stick with us, and we'll explain as clearly as we can.
Point 1: Heineken (yup, the beer company) sponsors The Cities Project. It's an effort to do important, positive things in metropolitan areas around the world.
Point 2: This year, the Cities Project has teamed up with our friends at the National Trust for Historic Preservation to support 11 important preservation and civic projects around the country.
Point 3 (and this is a BIG one!): One of those projects is our effort – your effort, really – to preserve, repair and reopen Honolulu's famed Waikiki War Memorial Natatorium!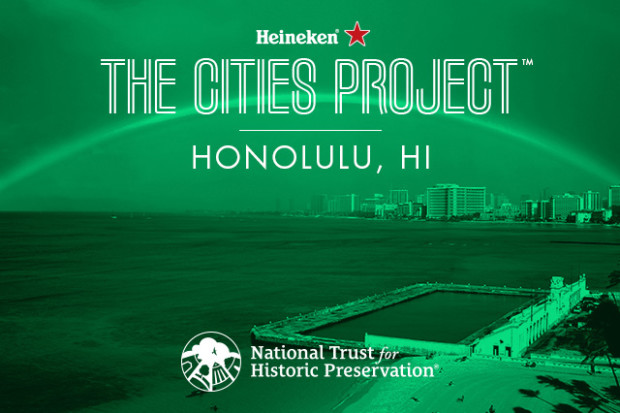 Point 4: Heineken is raising money for the 11 projects at a special mini-site on Indiegogo.
Point 5: As with most crowd-funding efforts, there's great SWAG to be had if you support the Natatorium through The Cities Project. Like a Cities T-shirt (for $30). Or (for $15) a really cool new print by Italian illustrator Carlo Stanga, depicting swimmers and sun worshippers enjoying the Natatorium once it reopens.
Point 6 (WAAAAY cool!!): Jump it up to $150, and your perk can be two tickets to an otherwise sure-to-sell-out Bruno Mars concert of your choice on the U.S. leg (July 15-Nov. 11) of the Hawaii native's mammoth 24K Magic tour!!
Point 7: Now, this is where it gets complicated. The Cities Project campaign on Indiegogo runs from now through the end of June. During the campaign, only a certain number of Bruno Mars tickets are available each week. And each week, only a certain portion of that ticket block can go to supporters of the Natatorium. (Reasonably enough, Bruno wants to be sure that all the chosen Cities projects get their fair share of support.)
Point 8: Psssst! Call it insider trading, but we can tell you this: The weekly ticket blocks go on sale up each Monday during the campaign. There are, alas, no Hawaii dates, but there are 11 on the West Coast. And maybe you've got Mainland friends or family in Louisville, Buffalo or Little Rock?
Point 9: See? We told you. It's complicated. But let's make it easy. Below are two sets of directions. Directions Set 1 has step-by-step instructions on giving to the campaign in return for T-shirt or art print-level SWAG. Directions Set 2 has your step-by-steps for the Bruno Mars tickets.
Directions Set 1 Support the Natatorium (and get a T-shirt, art print, or satisfaction and thanks)

1. Click here.
2. Read the page. (Good stuff there!)
3. On the right side, find the level you want under "Perks," click on it and fill on the forms and follow instructions from there. Mahalo!
Directions Set 2 Support the Natatorium (and see Bruno Mars in concert)

1. Put these instructions in your calendar for Monday.
2. Click here.
3. Read the page. (Good stuff there!)
4. Click here and then click on the pink "Get Tickets" link.
5. Choose a concert.

6a. Select the Waikiki War Memorial Natatorium as the project you want to support. Fill out the forms and follow instructions from there. Mahalo!
Or…
6b. If the Waikiki War Memorial Natatorium is not among the projects available for selection, it could be that this week's tickets are not yet released. Or it may be that this week's tickets supporting the Natatorium are sold out. Check back later. If it becomes clear that this week's tickets have come and gone, well, bummer! But come back next Monday and try again. Mahalo!
Point 10: Whaaaat? You're not convinced? OK: Bruno Mars Carpool Karaoke. 'Nuff said!
Mahalo, Friends!
Mahalo to everyone who's making this happen: Heineken, the National Trust for Historic Preservation, Waikiki's own Bruno Mars, and – of course – you!!